"One Hand On The Radio" (Bill Caddick/Pete Bond) is a song by Canadian singer, Aengus Finnan, and the name of this blog. All my life I've had one hand on the radio, in fact or in mind. And while nowadays it is usually through the computer and not radio, music is always playing as I go through my days.
My first store-bought record was a 78 by Dean
1916 PACKAGING OF
SUN-MAID RAISINS
SHOWING LORRAINE
COLLETT AS THE
SUN-MAID GIRL
Martin, my mother bought it for me. It was 1954 and the record was called "Sway." The song still holds up but there is better Dean Martin (less background production) –– my favorite, a 1963 album called "Dream With Dean."
In 1954 I was eight years old and "Sway" brought some rhythm into my life. I knew about the song because I first had heard it on our kitchen radio. A radio which, in memory, was cream colored and bakelite. Years later I came to associate "Sway" with the Sun-Maid box of raisins in our kitchen, in particular with the Sun-Maid raisin girl, who seemed perky and rhythmic herself.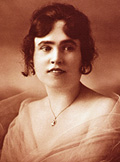 LORRAINE COLLETT
IN 1915
Some years back I read an obituary of the real model for the Sun-Maid raisin girl, Lorraine Collett. She was born in 1892, died in 1983, and lives on in my heart.